遊び方



ちび悪魔はウィンドゥズゲームではない。。。本格的なレトロゲームからエミュレータで遊ぶが必要です。。。「WinApe」がお勧め 最初はヴァーチャルディスク1をいれて、これをタイプして run"disc
エンター・キーを押して、ゲームわそれから始める




Basics



ちび悪魔はアーケード風の弾幕STGです, 2と3ボタンジョイスティックで遊ぶべきです、2ファイヤーボタンを使っています(右と左).
初めてはカーソル・キーで動く... 「Z」は左でファイヤー、「X」は右でファイヤー、[space]はスマート爆弾(画面の敵を一瞬で全滅!) ,Pはポーズ

メイン・メニューでキーを選択ことができます、キーボードとジョイスティックのボタンを何でも使えますから自分の好みのコントロールを使って下さい

選択肢は'Settings.V01'ファイルで保存されています、万が一問題があればこのファイルを消してください - このファイルがなかったら「ちび悪魔」は既定の設定をつかいます



「呪い」の収集!





ちびこは「呪い立方」を集めると、黒い魔法をパワー・アップ!
呪い立方は三つあります:

| | | | |
| --- | --- | --- | --- |
| | パワーに二倍 | 敵に行うダメージを二倍にする - 一つだけ賀もらえる | |
| | 星形ドローン | 自分と一緒にドローンがファイヤーする - 二つが賀もらえる | |
| | 速度アップ | ファイヤーの速度が上がる - 三つが賀もらえる | |



ヒント





呪いはジャスティス!

できる限り、ぜんぶの「呪い立方」を集めて - 呪いパワーがないとレベルボスを勝つことが出来なう - いざという時になったらスマート爆弾使って敵の弾丸をヒットしても取ってください! でも: 「呪い立方」はレベルの後全部なくなるから毎レベル集めるが必要!



ボスを殺そう!

スマート爆弾はボスを傷つけない - でもボスの弾丸がなくなるしボスの仲間を無くす、でも普通のファイヤーだけはボスを傷する、大怪我になるとボスの形が変わるかもしれない



弾丸を大戦津に

ちび悪魔でも限界がある。自分のファイヤーが同時に36弾丸になるともう打つが出来なくなるから敵をちゃんと狙ってください



大きさだけだなくて!テクも必要!

敵によってヒットゾーンが違う、貴方の段丸が敵のスプライトを経たら、もう一度狙いなおしてください



自分の限界を分かってください!

ちび悪魔のちびこのヒットゾーンは間中のドットだけです - ファイヤーボタンを押しながらなら動くが遅くなるそれで弾幕を避ける、ボタンを外すと動くがもう一度早くなる。。。ドローンは無敗からできるときドローンで敵を狙うはいいさくせん






Know Your Enemy!





Did you know that all the enemies have a name? due to programming limitations, their names are not shown during the game, but you can see them all here!




Level 1 - Mountains




| | | |
| --- | --- | --- |
| Image | Name | Notes |
| | Ant Attacker | Huge Three-eyed spiny ant, it walks around blasting fire upwards |
| | Skeleton Crawler | Losing half its body, and being constantly legless doesn't slow this enemy down! |
| | Boni Burd | What animal has Four arms, A skull and no body? - no idea, but it's called "BoniBurd", and I bet it's good at the piano! |
| | Skull Gang | There never seem to be any Skull duos - they always have to go around in 'gangs'... these mouthy cluster fly around spraying fire everywhere |
| | Eyeclopse | a strange creature with One Eye, and Two tenticles, it moves in a wave pattern firing bursts |
| | Rock Chick | What came first, the Rock or the Chick? who knows, but they seem to have combined, doesn't really move much, but it's amazing it flies at all! |
| | Splice Face | Apparently two faces are better than one, this is a tough enemy which blasts fire everywhere, and sneaks up from behind! |
Level 2 - Forest
Image
Name
Notes
Biterfly
Its not clear what happened to this Butterfly, but it's grown a big mouth and looks likely to use it!
Gnat Pack
A cluster of Mosquitos! don't they know there's only room for one bloodsucker in this forest?
Kamisagi
(噛みサギ)
Any resemblence to the Monty Python killer rabbit with big pointy teeth is coincidence... this is a different Killer Rabbit, with totally unrelated Pointy Teeth!
Mukadebachi
A cross between a Mukade centipede, and a Suzumebachi wasp - it's huge, spreys fire everywhere, and killing one segment won't stop it!
ShroomBomber
A flying bug infected with Entomopathogenic fungus, Its high! on mushrooms! and out to cause trouble
Zombie Capybara
Even the adorable Capybara has been turned in to a Brain Munching deranged monster by the recent Zombie Outbreak!
Zombie Salaryman
This Zombified businessman roams the land with an insatiable appetite... for making dubious expenses claims!
Level 3 - River
| | | |
| --- | --- | --- |
| Image | Name | Notes |
| | Fish-Bone | No wishes to be had here - it's not clear why the head has been preserved, but the tail has rotted away |
| | Bubble | What on earth is in the water to have bubbles rising like this? Comes in 2 sizes! |
| | FishFace | I'm not sure if this fish has two faces, or the second one is something it swallowed - either way it's creepy! |
| | LiliFrog | This frog sits around all day, causing hassle to everyone who goes past |
| | Pairanah | Two mouths are better than one! as if one paranah wasn't bad enough! |
| | MinerFish | It's big and round and looks like a Sea mine - may be it has a complex about its body shape, cos it's real angry! |
| | SpitFish | This fish has no mannars! it spits all the time! |
| | Tentitack | A Tenticle covered Jellyfish like creature that's always on the attack! |
| | SuperFish | Is it a bird? Is it a plane, is it a Laptop Virus? Yes - it's Super Fish! |
| | StarfishBomber | A star filled nights sky is one thing, but a Starfish filled sky? |



Level 4 - Dark Caves


Note: Many enemies on this level emit light


Image
Name
Notes
DekaWooRei
デカWOO霊
This has to be different enough from the smari0 enemy to be legally safe doesn't it?
GhostMan
Looks like the lovechild of the characters of a certain classic arcade game!
Blobber
These blobs of god-knows-what lurk around the top and bottom of the screen, and are very hard to see!
WhiteSpirit
A mildly troublesome ghost, but there are worse!
DarkSpirit.png
The white spirits big brother, stronger, harder to see, and it won't go away!
KabiKami
(黴神)
The God of Mold! This is the creature that causes all the mold to grow on things!
Flamer
Glows Red... Who knows, maybe you'll prefer to put up with it than be in the dark?
Fire! Fly!
This bug has a two track mind! It also glows green
Lumipede
A green glowing bug, it has two parts, and you'll have to kill both!
JellyFishy
Whats a waterfall full of Jellyfish doing in a cave? why glowing Blue of course!
Now You Know!
... And knowing is half the battle!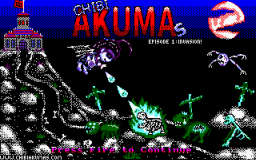 ちび悪魔のタイトルがめん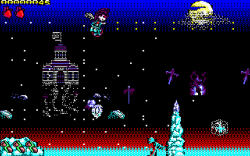 ちび悪魔のレベル 1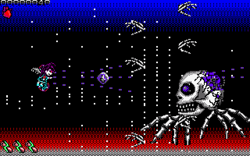 ちび悪魔のレベル 1ボス!





Chibi Akumas V1.666 has taken over 350 hours of development, if you want to support my work, and learn all the secrets of the game's development, please back me on patreon!

私のレトロソフトの作成を応援したいならPATREONでサポートできます